Reset64 #11 - May 2018
Reset Magazine is back with our SHMUP themed 11th issue!
Featuring reviews of some of our favourite games that featured in the 2017 GOTY Awards, including Galencia, LuftrauserZ, Rescuing Orc, Planet Golf and of course, the amazing Sam's Journey! We also feature a special review of Knights of Bytes' stunning shooter, Metal Dust!
Paul Morrision kicks off the issue with an amazing shmup themed discussion aptly titled, Shoot-Em-Up Discussion Kit, with the 8-bit kings of the genre; Andrew Braybrook, Jon Hare, Jay Aldred, Simon Pick and Pete Baron. Martin Grundy also has a solo chat with his old school chum and Galencia programmer, Jay Aldred.
The Reset team and contributors go back in time to revisit their favourite shooters in Alex Boz' Blast From The Past. Martin Grundy takes us back 30 years for Reset Reloaded and the team reflect back on Jeff Minter's wacky, crazy and zany shoot'em up, Iridis Alpha, for Rob Caporetto's Reset Rewind.
The Jeff Minter love continues, with Jari's comparison of the 8bit micro versions of Voidrunner in Format Wars and the Reset crew discuss their favourite Bob Wakelin masterpieces in a touching tribute to the legendary cover artist.
On the Mix-i-Disk, we proudly team up with Megastyle to co-release the watery themed Exploding Fish. Alf Yngve provides us with two brand new SEUCK shooters, Split Second Redux and Operation Metalstorm, both enhanced with Martin Piper's amazing Redux Engine and featuring stunning presentation by Richard Bayliss. Other games include a brilliant asteroids clone called CBM Asteroids – Reset Edition by Wegi, Soci's amazing Kobo Deluxe conversion titled Kobo64, and a previously unreleased Pacman variant from the 80s called Labyrinth. Of course, the disk also features the now standard Reset greets intro specially coded by Dr.J, and an easy to navigate menu system by Richard.
We also present you with a stunning new cover by Anthony Stiller and a brand new Blow The Cartridge comic by Cameron Davis. All this and lots more in the 70+ page Reset64 issue #11.
The limited physical edition – with optional poster and coverdisk, is available to order right now at Protovision:
https://www.protovision.games/shop/product_info.php?products_id=215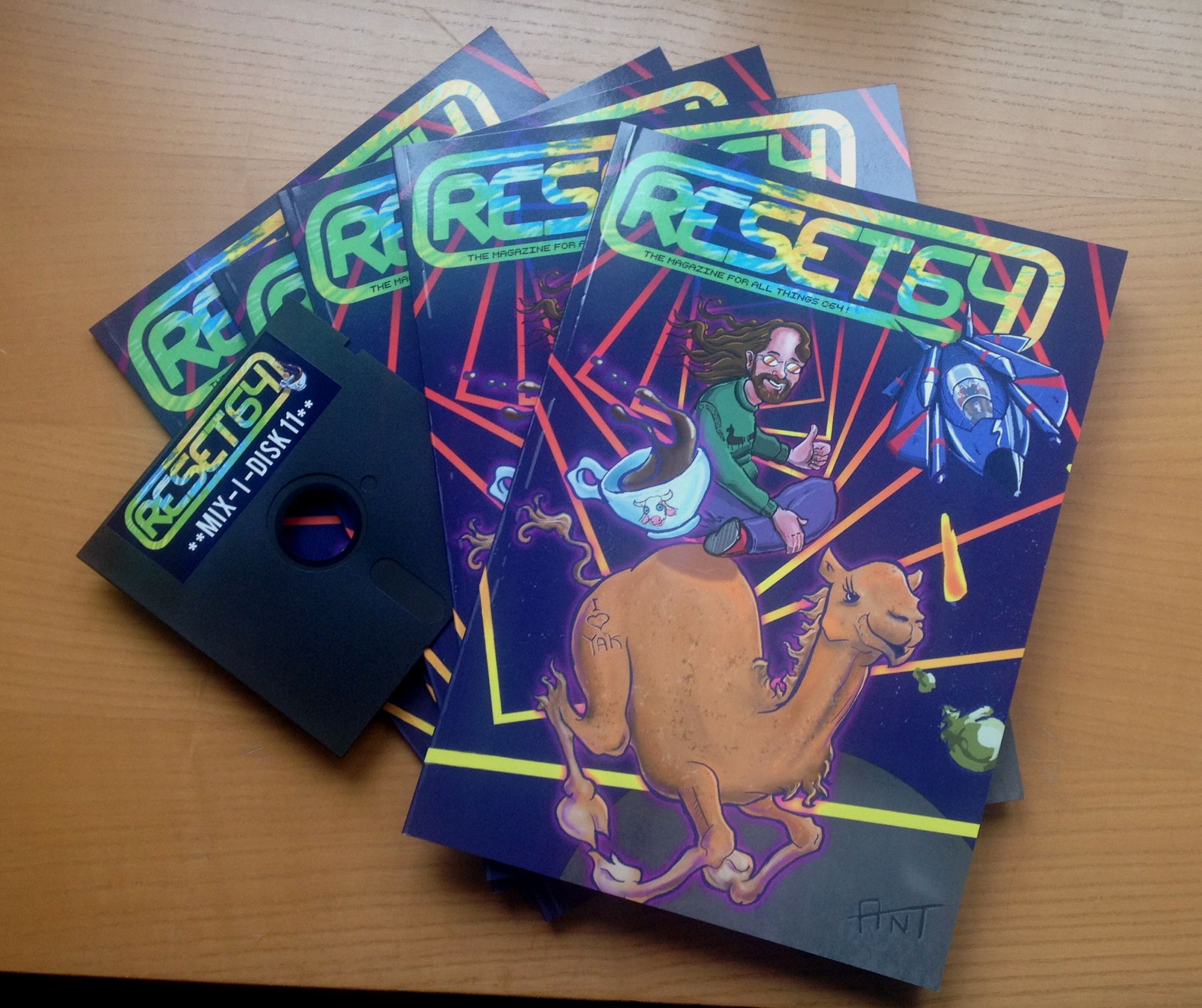 The 'Pay what you like' PDF is NOW available in formats that will suit your computer screen and tablet!
Many, many hours of hard work goes into producing each issue of Reset. Please consider shouting us a cuppa!
Produced (2018) by Reset Magazine Staff.
Download
Click download now to get access to the following files:
Reset_11_Mix-i-Disk.d64
170 kB
Reset 11 (individual pages).pdf
41 MB
Reset (page spreads).pdf
41 MB